Diego Rivera's El Albañil (The Bricklayer, 1903), painted when the artist was 18, is on view in the Museum's Nelson A. Rockefeller Center for Latin American Art, along with eight other works that span much of the artist's career. This small focus installation provides a glimpse of the brilliance of one of Mexico's greatest artists. El Albañil is thought to be the earliest Diego Rivera painting in the United States. It is on permanent loan to the Museum from Pagent and Rugeley Ferguson, Jr.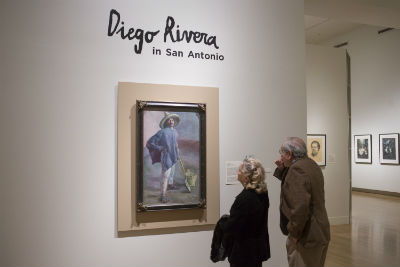 El Albañil was painted by Rivera as part of a student competition. He won a medal and a grant, but first prize for painting the same subject went to classmate Roberto Montenegro, whose later work (Women from Tierra Caliente, 1934) is also displayed in the Museum's gallery.
The Diego painting is making its second appearance at the museum. In 1996, Rugeley Ferguson, Sr., brought curator Marion Oettinger the painting to see. Ferguson's family had acquired it in the 1940s, and an expert had told him it was a fake. It was damaged, including a big gash, and there was an irregular Rivera signature. By pure coincidence, Oettinger received a book that same week on early paintings of Diego Rivera and saw a similar atypical signature on a famous painting in the book. Rivera scholar Ramon Favela made a definitive identification of El Albañil in 1997 and conservation was completed just in time for it to be included in the 1998 inauguration of the Nelson A. Rockefeller Center for Latin American Art. A photograph of the painting had appeared in a 1904 issue of Revista Moderna, but the painting had been considered lost.
Rivera , who lived from 1886 to 1957, ranks among the world's greatest artists in the first half of the twentieth century. He is renowned for his murals with social themes.
###
The San Antonio Museum of Art is housed in the historic Lone Star Brewery on the Museum Reach of the San Antonio Riverwalk. The collection contains more than 25,000 works representing 5,000 years of history and cultures from around the world.