Join SAMA to kick-off Raul Rene Gonzalez's three-day artist residency in our Great Hall in honor of our three loans from the Art Bridges Foundation:  
Interior with Music, Max Weber, 1915 
Bronzeville at Night, Archibald John Motley Jr., 1949 
Untitled (Black and White Variation on "Pochade"), Stuart Davis, ca. 1956–1958 
Taking inspiration from these three works of art, Gonzalez will be setting up a temporary studio with the task of painting a jazz-inspired work of art that will be presented formally to the public on Tuesday, May 18, 2021, through an online artist conversation. 
Raul Rene Gonzalez is a local San Antonio artist whose works draw inspiration from personal and trans-cultural experiences. Gonzalez regularly exhibits his artwork regionally and nationally.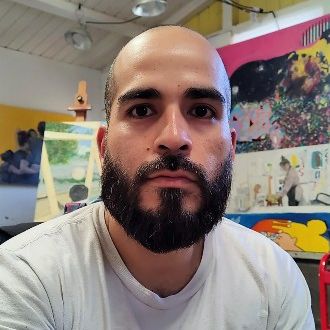 Pick up a free art-kit filled with a small canvas, acrylics, and paint brushes to use at home! You can even listen to Gonzalez' jazz playlist.
There will also be a live jazz band hosted outside in our shaded Luby Courtyard.