José Villalobos grew up on the US/Mexico border in El Paso, TX, and was raised in a traditional conservative family. His oeuvre reconciles the identity challenges in his life, caught in between traditional Mexican customs and American mores, as well as growing up with religious ideals that contrast with being gay. In his artistic practice, Villalobos explores traditionally "masculine" objects and softens the virility of these objects.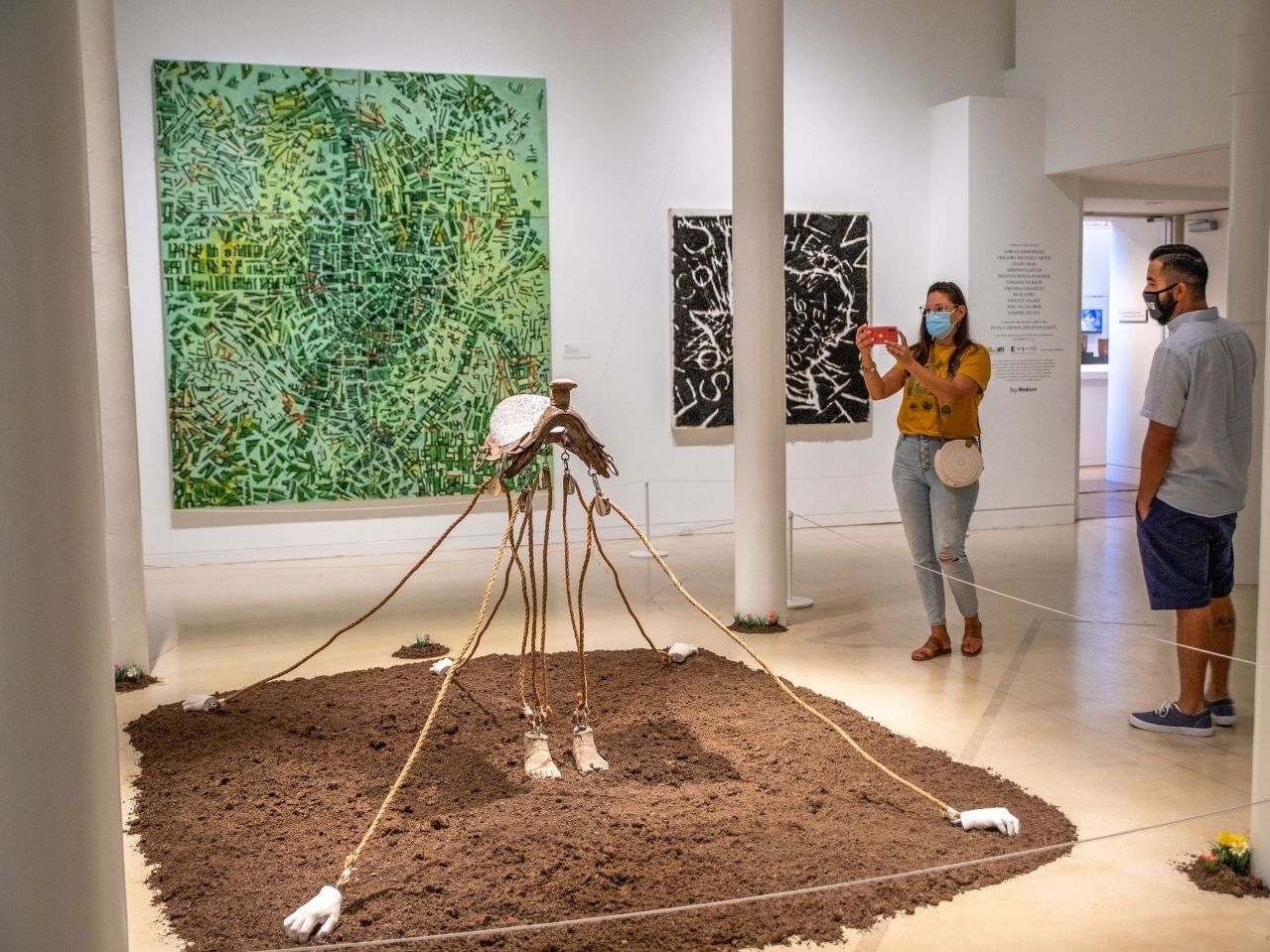 Los Pies Que Te Cargaron, on view in the 2021 Texas Biennial exhibition at SAMA. 
Your artwork Los Pies Que Te Cargaron is featured in the Texas Biennial at SAMA. Can you tell us a bit about it? 
This work is about how family and cultural tradition are used as a divisive tool to shape an individual. The title, which translates directly to "the feet that carried you," evokes a phrase parents use: "Remember who brought you into this world, and that I can take you out of it too."
How do your performances relate to your studio practice?
My performance and my installation work come from the same emotional space made physically present. I use my body to talk about important issues surrounding the Latinx and queer communities. 
You have exhibited and performed your work all over Texas, as well as in galleries and museums throughout the United States. How does your work respond to these different regions, considering the important role of your Norteño identity in your practice?
My work responds to any region it may be in. Racism, homophobia, and machismo can live in any space, whether it is Latinx/Norteño or not. 
 
More about José Villalobos: 
Villalobos received a Bachelor of Fine Arts degree from the University of Texas at San Antonio in 2016. He was awarded the Artist Lab Fellowship Grant that same year for his work De La Misma Piel at the Guadalupe Cultural Arts Center. Villalobos recently earned a Joan Mitchell Painters & Sculptures grant and residency and is also a recipient of the Tanne Foundation Award. His work was featured in the nationally recognized exhibition Trans America/n: Gender, Identity, Appearance Today at the McNay Art Museum. Villalobos has exhibited and performed at the Mexic-Arte Museum, Austin, TX; El Paso Museum of Art, TX; and El Museo de Arte de Ciudad Juárez, Mexico, among other institutions and galleries nationwide.
 
San Antonio-based artist José Villalobos will perform United States Customs of Oppression in the West Courtyard on October 12. This performance is part of the 2021 Texas Biennial, a geographically-led, independent survey of contemporary art in Texas.