1. Tell us about the piece Cloud/Nube (The Journey/El Viaje) featured in the exhibition No Ocean Between Us.

The installation Cloud/Nube (The Journey/El Viaje) brings to our memory displacements between water and land and the journey of immigrants who came to Peru and were never able to return to their countries of origin. In the winter, thousands of crabs are stranded in the sand, and this made me think of migration and life cycles.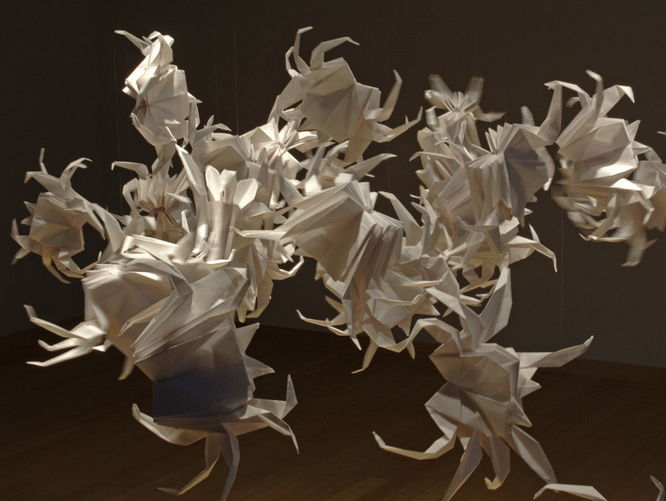 Carlos Runcie Tanaka, Peru, b. 1958, Cloud/Nube (The Journey/El Viaje; One/Uno) (detail), 2013, Video installation (The Journey 4:13 minutes; One 7:26 minutes) and 36 origami crabs, Courtesy of the artist

2. Could you tell us a bit about how you balance your multimedia work with your ceramics practice?

Ceramics have been my main means of expression, but I resorted to installation and new media to explore and expand possibilities. Both of them come naturally in different moments of my process. The hand, the head, and the heart go together.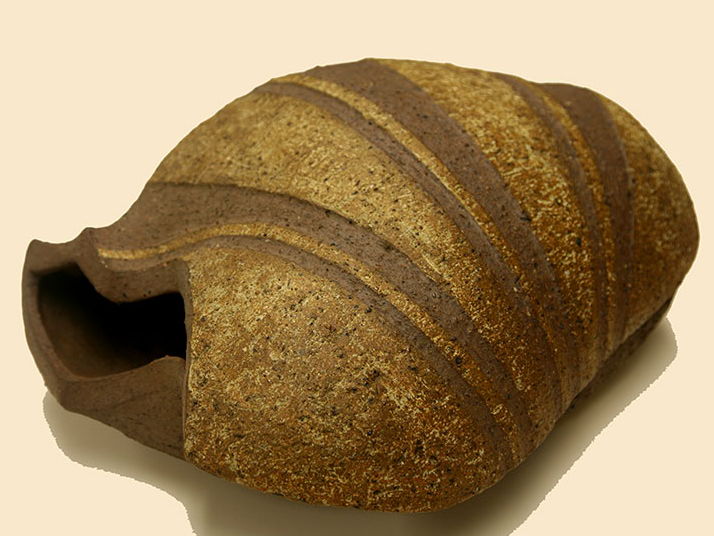 Carlos Runcie Tanaka, Vessel Object (detail), 1989, clay. © OAS AMA | Art Museum of the Americas Collection.

3. What are some current inspirations for your work?

Usually, many projects are inspired by personal experiences. Sometimes my response to life-threatening events has produced unusual and powerful visions that take over space. The important thing is to continue working, to wait for the next episode. I remember I used to write songs in my youth... the music came just at the right time when there was something important to express and share.

Learn more about Carlos Runcie Tanaka during our Online Artist Conversation on March 16.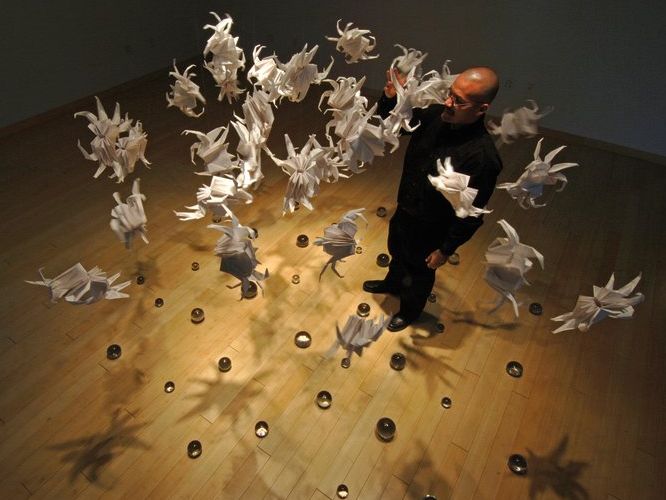 Carlos Runcie Tanaka, Peru, b. 1958, Cloud/Nube (The Journey/El Viaje; One/Uno) (detail), 2013, Video installation (The Journey 4:13 minutes; One 7:26 minutes) and 36 origami crabs, Courtesy of the artist