What drew you to working in museums? Were you one of those kids who knew what they wanted to do?
I was one of those kids, and that's why I have such great respect for what the education department does and what docents do.
I went on a sixth-grade trip to the Huntington (Library, Art Museum, and Botanical Gardens). It's not in Riverside, California, where I grew up, but it's within driving distance. I still remember very vividly thinking that it was the most beautiful place I'd ever seen in my life, and because of that, I went home and told my parents I wanted to work in a museum.
And, of course, at twelve years old, and not coming from a family in the arts at all, I had no clue what it meant to work in a museum, or what jobs there were. Undoubtedly, the people we encountered that day weren't curators, but rather would have been educators and docents.
But it's really because of that experience that my life changed.
What is the job of a curator?
You could ask a number of curators this question, and there's a good chance they might come from a different angle. I was raised by civil servants, so I very much associate my job with being a civil servant. What I mean by that is, I believe that the curator's role is to make works of art accessible to the public in general—to serve the public.
But, of course, there's a lot of other things that go into our roles. We have the great privilege of getting to research and write about the works of art. We also get to help shepherd collections and identify ways in which we can strengthen collections, and that too is an enormous privilege.
Is there something you think people would be surprised to learn about your job?
So, it's funny. A lot of times, you'll see a curator in a movie and it's all very glamorous. I still remember when I was younger and Ocean's Eleven first came out and Julia Roberts was coming down the stairway of the Bellagio, where she worked as a curator. I've seen other movies, too, where it's so utterly glamorous. And it can be, but there's also very much another side to it.
In addition to going to libraries and archives and really digging through those types of things, we sometimes serve as couriers. That's when we transport the art for loans.
A few years ago, during one of my very unglamourous courier trips, I was on a truck for four days straight during the Polar Vortex, that huge storm, trucking from San Diego to Milwaukee with seven pick-ups along the way, which is a lot. It was one of the most treacherous and scary courier trips I've ever been on.
Nevertheless, it's an immense privilege to be entrusted with that. I once even transported a Vermeer, and there's only thirty-some Vermeers in the world, and that was also a cross-country truck trip.
I've been fortunate to serve as a courier more than twenty times so far in my career. And several of those trips were international. I still remember serving as a courier to the Louvre in Paris for the very first time. It's a museum that is so massive that they have a whole network of underground tunnels and rooms—essentially a small city that operates below ground. It's so large that we rode in golfcarts in order to get from one place to another. While scooting around beneath the Louvre was an everyday thing for their staff, I remember being mesmerized and thinking to myself that my younger self could have never imagined having the opportunity to do something like that.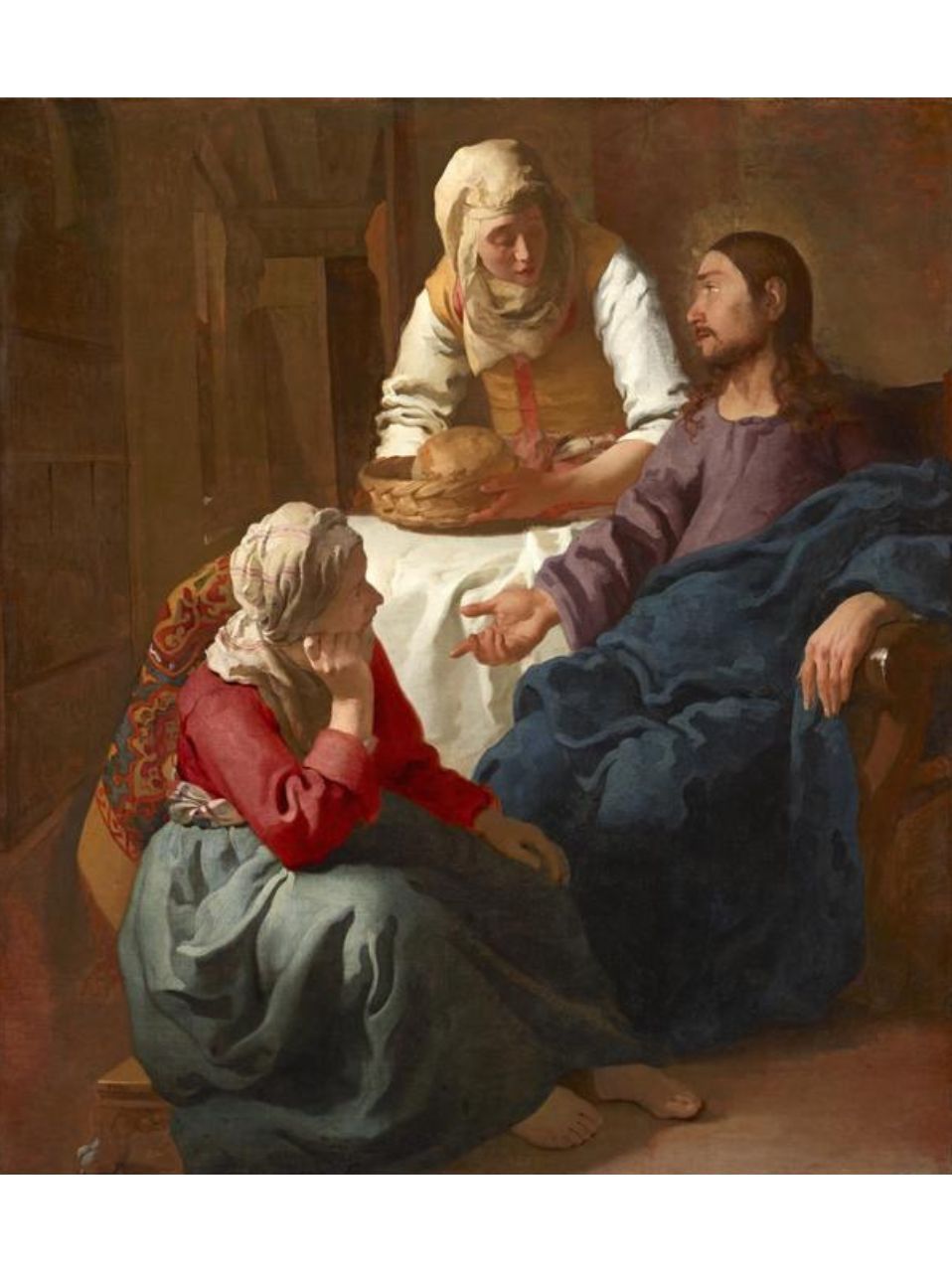 Johannes Vermeer, Dutch, 1632-1675, Christ in the House of Martha and Mary, ca. 1654-1656, Oil on canvas, 62.4 in. x 55.7 in. (158.50 cm x 141.50 cm), Scottish National Gallery, Presented by the sons of WA Coats in memory of their father in 1927, NG 1670, Image courtesy of Scottish National Gallery, photography by Antonia Reeve
What is one of your favorite artworks in SAMA's American art collection?
SAMA, even though its American art collection is fairly compact, has managed to bring together a lot of really great, key pieces. And I can talk about the Sargent; I can talk about the Bierstadt; and I'm a big fan of the John Linton Chapman, but to be honest, one of my favorite pieces is one I brought out of storage, which is by Pierre Daura. It's called Good Henry.
I really like Good Henry because there's a lot of hidden meaning and admiration in that painting. Rather than having Henry come in his "Sunday best," Daura painted him in his coveralls, really looking at this man as a working man and worthy of depiction in a formal portrait.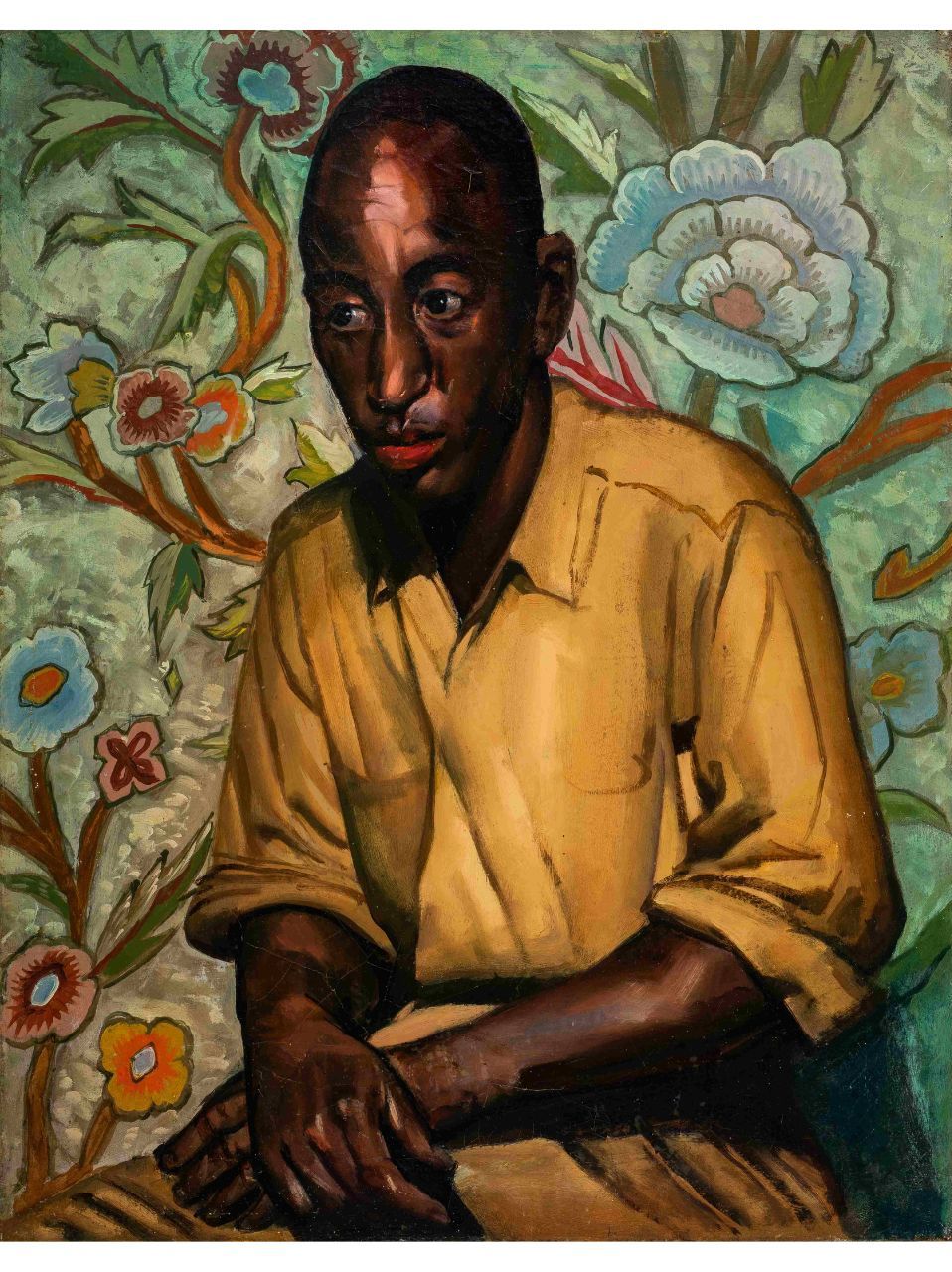 Pierre Daura (American, born Spain, 1896-1976), Good Henry, 1947, Oil on canvas, 27 1/8 x 21 1/8 in., Gift of Martha Daura, 97.5.7 © Martha Daura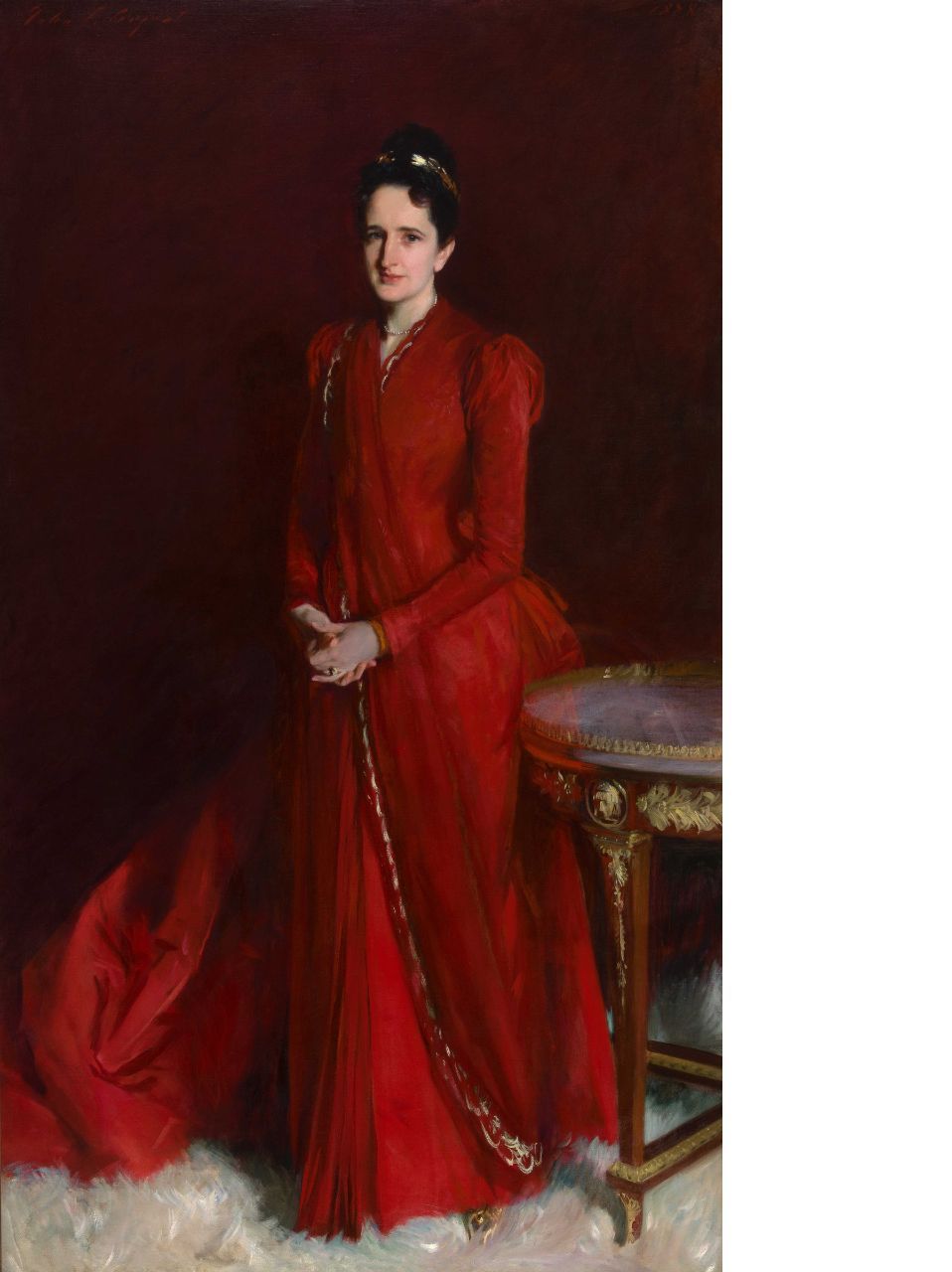 John Singer Sargent (American, born Italy, 1856–1925), Margaret Louisa Vanderbilt, Mrs. Elliot Fitch Shepard, 1888, Oil on canvas, 84 1/2 x 48 1/2 in. (214.6 x 123.2 cm), Purchased with funds provided by the Lillie and Roy Cullen Endowment, 84.75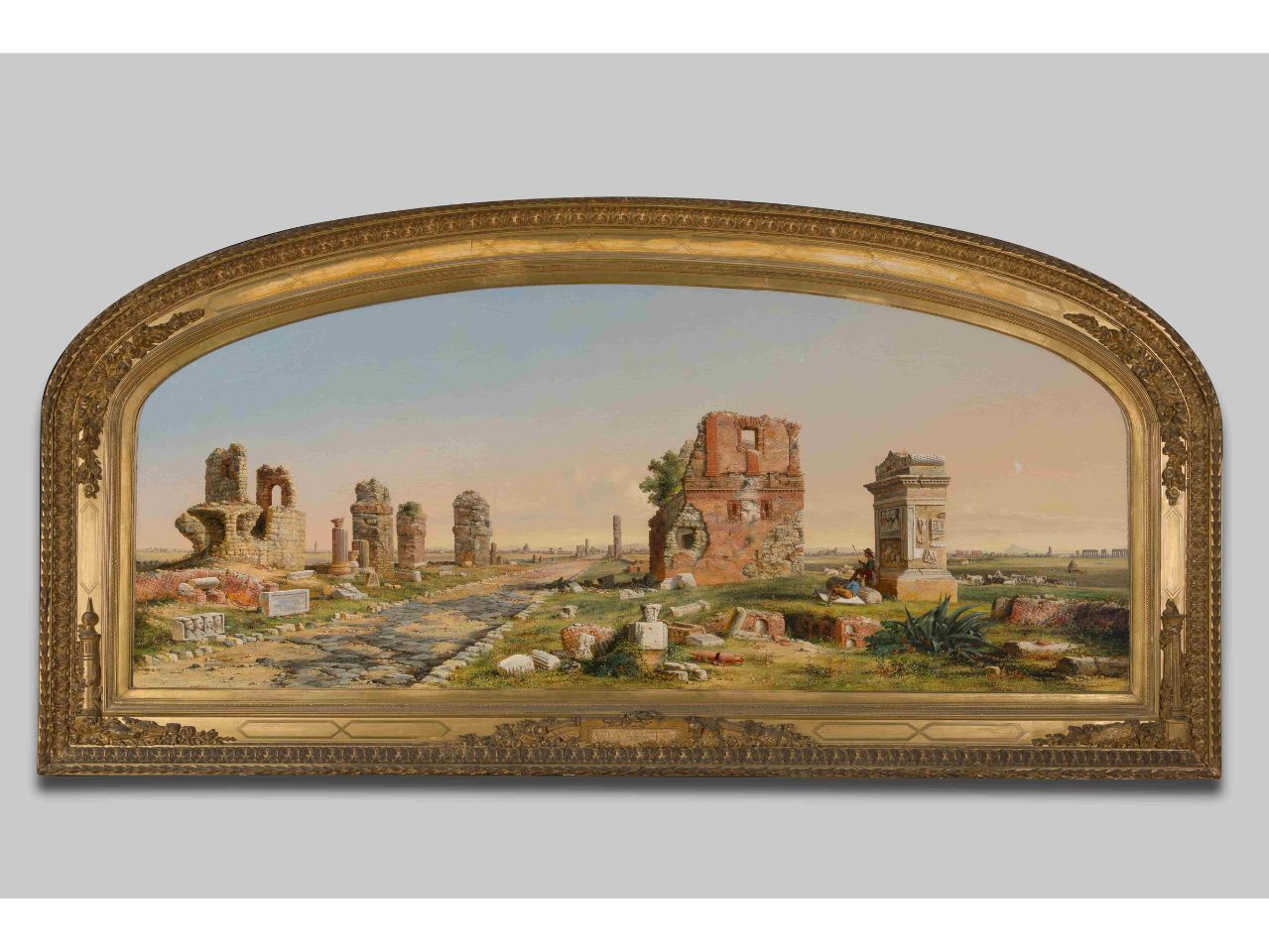 John Linton Chapman (American, 1839–1905), The Appian Way, 1875, Oil on canvas, 29 1/2 x 70 1/2 in. (74.9 x 179.1 cm), Purchased with the Grace Fortner Rider Endowment Fund, 79.26.
What are you currently working on?
I'm working on a show that will be at the Museum next fall. We're going to be the fourth of five venues for American Made, which is a private collection show from the DeMell Jacobsen Foundation. So, my current big project is serving as SAMA's in-house curator for that show. In addition, I'm also working on the team that is putting together the summer show, Still Brewing Art. It's a cross-departmental collaboration in which we are looking back at SAMA's roots as the original Lone Star Brewery and how the Museum as well as the surrounding community and brewing culture have developed over the last century.
You're still new to San Antonio. How do you like it so far?
San Antonio has always been my favorite city in Texas. I think it's because it reminds me of Southern California as much as anywhere in Texas can. San Antonio, in terms of its culture, its food, its people, and its architecture reminds me of where I grew up. I feel more at home in San Antonio than I ever did in Dallas-Fort Worth or Florida or Ohio or any of the other places I've worked, because it simply reminds me of home.