On View: Bannister, Traylor, and Porter
To celebrate Black History Month, we asked Regina Palm, Marie and Hugh Halff, Jr. Curatorial Fellow for American Art, to highlight works by Black artists currently on view at SAMA. Read on to learn about Edward Mitchell Bannister, Bill Traylor, and Charles Ethan Porter— three artists working in different styles and genres—then visit the Museum to see their work in person.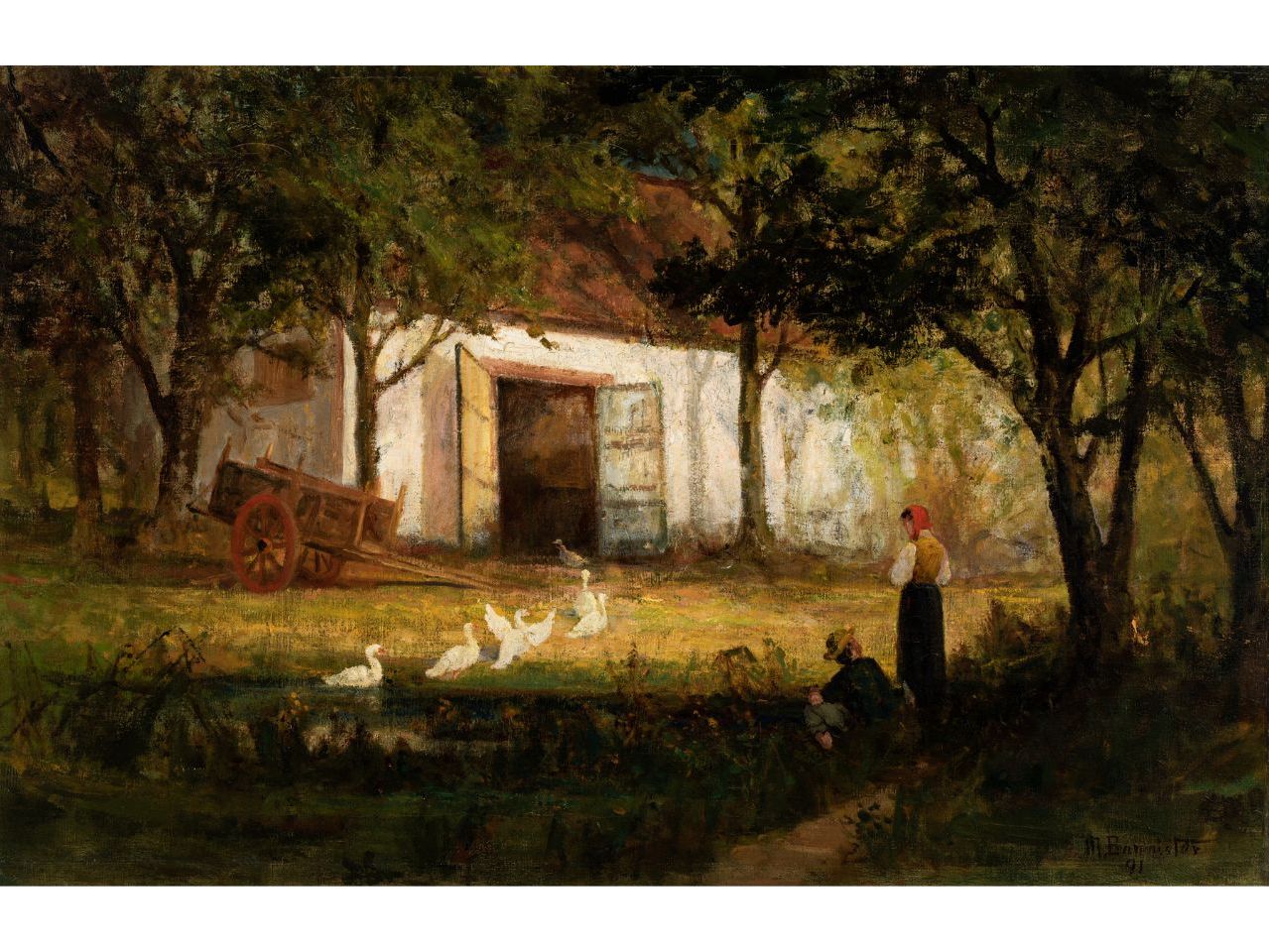 Edward Mitchell Bannister, American, born Canada, 1828 – 1901, After the Bath, ca. 1891, Oil on canvas, 36 x 49 in. (91.4 x 124.5 cm), San Antonio Museum of Art, Gift of Harmon and Harriet Kelley, 94.61
Edward Mitchell Bannister: After the Bath
You can almost feel the warmth of the sun in this pastoral scene by American artist Edward Mitchell Bannister. The title, After the Bath, usually reserved for female nudes, here humorously refers to geese drying off near a pond. Influenced by the French Barbizon school, Bannister made rustic landscapes like this one, that revel in quiet moments. Here, he frames the scene with shadowed trees, directing our gaze to the bright sunstruck building in the center of the painting where the parade of geese is headed. Despite the figures in the foreground, the focus of the painting is the rural countryside and the beauty that can be found in nature if only we take the time to standstill long enough to look. Following the death of his parents, Bannister and his brother were left orphans and went into foster care. Once old enough, he secured work at sea and made his way to Boston where he began taking art classes and soon discovered the work of William Morris Hunt, an American artist and proponent of the French Barbizon style. Bannister became even more determined as a painter after he read a racist newspaper article in 1867, which stated that Black people could not make art. Honing his skills, Bannister submitted a painting to the Centennial Exposition in Philadelphia in 1876, America's first World's Fair, and became the first Black artist to receive a national award, which the judges attempted but failed to rescind upon discovering his race. Bannister went on to become a leading painter in Providence, Rhode Island, where he lived, continuing to paint meditative scenes of the natural world.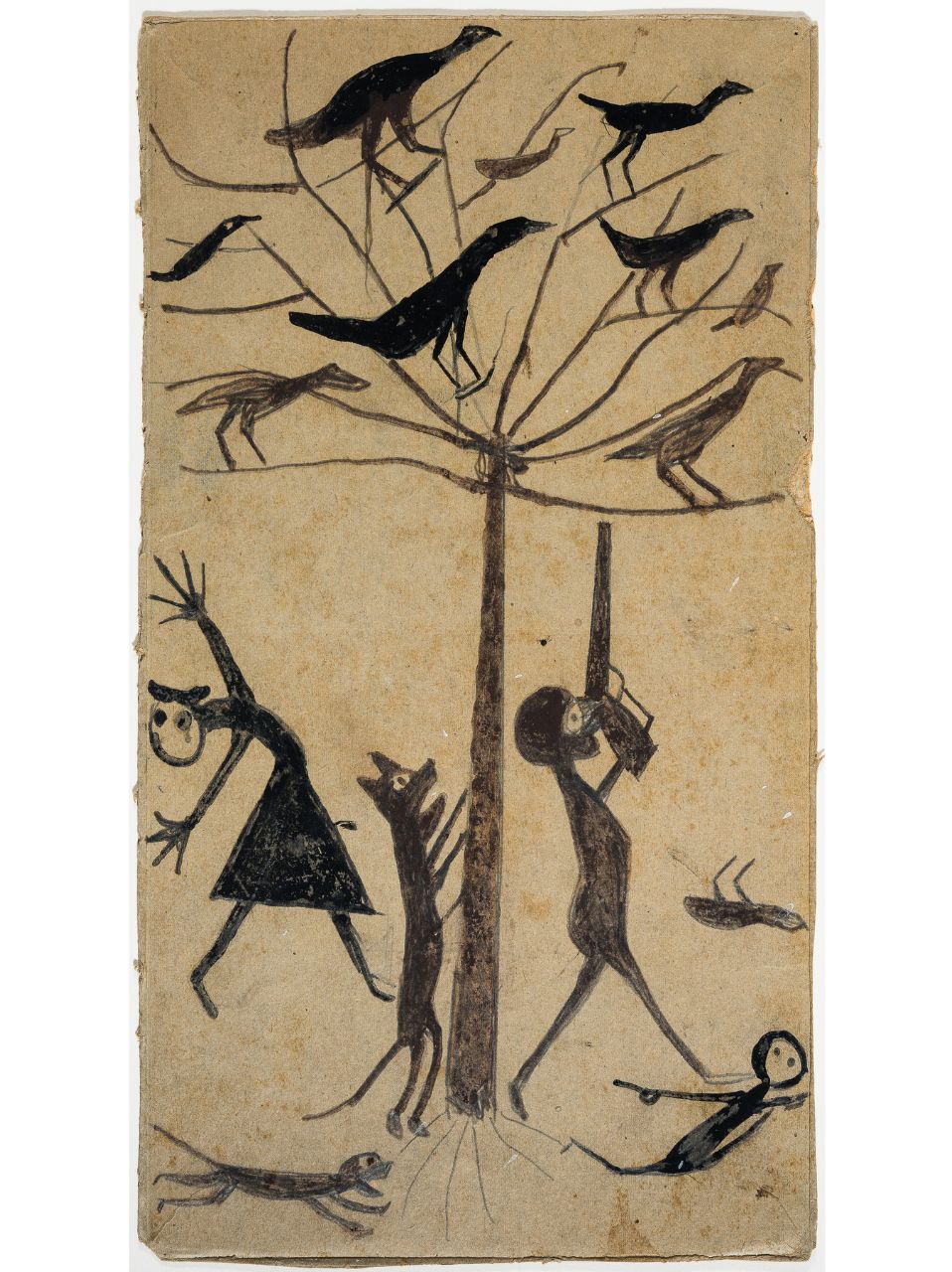 Bill Traylor, American, ca. 1853 – 1949, Animated Events, ca. 1939, 12 3/4 × 6 7/8 in. (32.4 × 17.5 cm), Graphite and tempera on cardboard, San Antonio Museum of Art, Gift of Dr. and Mrs. William Block in honor of Dr. and Mrs. Harmon Kelley, 94.6
Bill Traylor: Animated Events
Bill Traylor was born into slavery on an Alabama plantation in 1853. Following emancipation, he became a sharecropper, working into his early eighties. It was not until he was unable to work the land that he moved to Montgomery. Eventually unemployed and homeless, he began making art in his mid-eighties from found materials like cardboard and box tops—working from and displaying his art on the streets of the city. He created a visual record of his life—drawing on the everyday experiences he had lived—which now serves as an important historical record of not only a single man and artist, but also life in the South between emancipation and the Civil Rights Movement. Here, he has depicted a hunting scene using the flattened forms for which he is best known and stacked figures to create a sense of depth. Exaggerated forms, as seen in the figure on the left bending back, suggest a sense of movement and helped the artist to convey the story he was trying to tell despite never having had the opportunity to undertake a formal education of any kind. While Traylor and his work did receive attention from a local artist who helped to exhibit his paintings and drawings in Montgomery and New York City, Traylor's work never received the attention it deserved despite many similarities to celebrated artists including Milton Avery—artists who had formal artistic training, privilege, and opportunities, while Traylor's gift for art had come from a long, hard-earned life.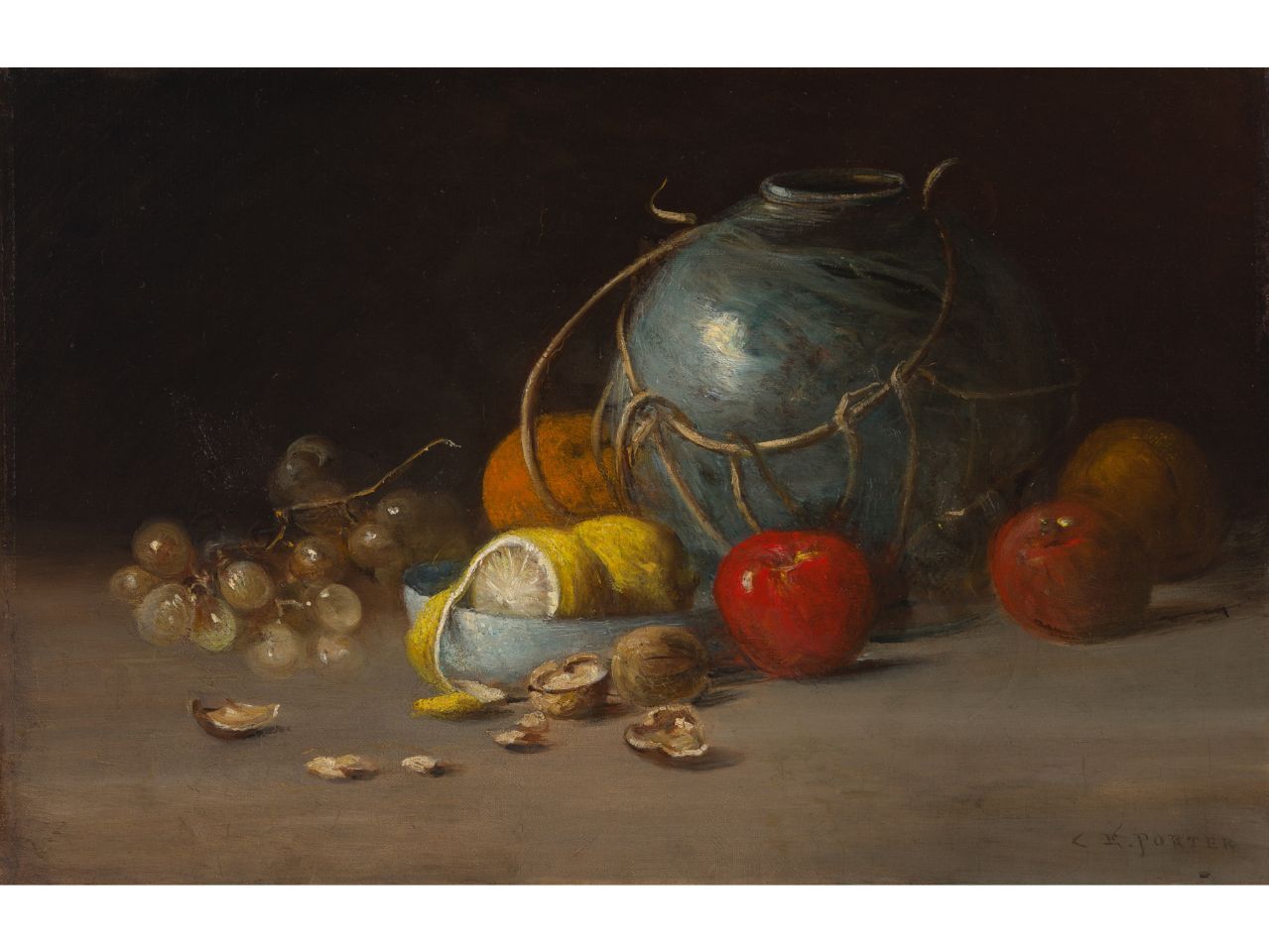 Charles Ethan Porter, American, 1847 – 1923, Still Life, ca. 1880, Oil on canvas, 13 x 20 in. (33 x 50.8 cm), San Antonio Museum of Art, Gift of Harmon and Harriet Kelley in honor of Milbrew and Shirley Davis, 96.48
Charles Ethan Porter: Still Life
This still life, executed shortly before the artist left to study in Paris, demonstrates Charles Ethan Porter's mastery of color. In fact, celebrated Hudson River School landscape painter Frederic Edwin Church said upon visiting Porter's studio that there was no greater colorist in America. Porter dedicated his life to the genre of still life, becoming not only the first Black artist to do so, but he was also one of the first to exhibit at the prestigious National Academy of Design in New York City.
Here, light glints off the surfaces in this still life, from the glistening white grapes at left to the shiny red apple at center and the glazes of the earthenware pot behind it. Porter demonstrates his understanding of light and the ways in which it not only reflects off a variety of surfaces, but also the ways in which it can travel through an object, highlighting the translucent grapes. Meanwhile, the partially peeled lemons and cracked walnuts suggest that someone has enjoyed the treats on offer for more than just their visual appeal.
Still life enjoys a long history, but rather than aligning with the Dutch tradition, in which we often see highly orchestrated pyramidal compositions and exotic specimens, Porter demonstrates his familiarity with the so-called kitchen still lifes found within both the French and Spanish traditions whereby every day, sometimes blemished, fruits and vegetables are depicted not on fancy tables or marble tops, but on kitchen counters or in cellars. Porter celebrates the beauty of these ordinary items within unpretentious settings.