Far too often, art is seen as isolated from everyday human experience and only available to a few people. Murals are accessible to all. They are powerful tools that strengthen community by reflecting local shared experience.
As part of a generous grant awarded by the Art Bridges Foundation supporting programming around the loans of three paintings, the Museum envisioned sharing art in the street with a mural project that would include the San Antonio community. Taking inspiration from Archibald Motley Jr.'s painting Bronzeville at Night, which represents Chicago's South Side neighborhood and its community, SAMA initiated the creation of the murals to embody San Antonio's East Side, West Side, and SAMA's campus.
An open call invited artists to apply, and three artists were chosen by a selection committee that included San Anto Cultural Arts and SAMA staff. Artists Sandra Gonzalez (East Side, Tony G's Soul Food), Victor Zarazua (West Side, Wicho's Deli), and Suzy Gonzalez (SAMA) relied on insights from an online community survey and organized community conversations to produce two mural sketches each. The communities voted on the proposed designs and pitched in to help execute the final murals.
"Community involvement in the planning, design, and creation of each mural was integral to the success and impact of the Murals project," said Noel Bella Merriam, AT&T Director of Education, Diversity, and Inclusion at SAMA. "Community input was instrumental in shaping the design and vision for each mural, resulting in works of art that reflect the character, culture, and history of each neighborhood. More than improving a neighborhood aesthetically, our goal was to reinforce social connections, and I believe we successfully accomplished that goal."
Learn more about the designs and techniques from the artists:
Artist Sandra Gonzalez, East Side, Tony G's Soul Food: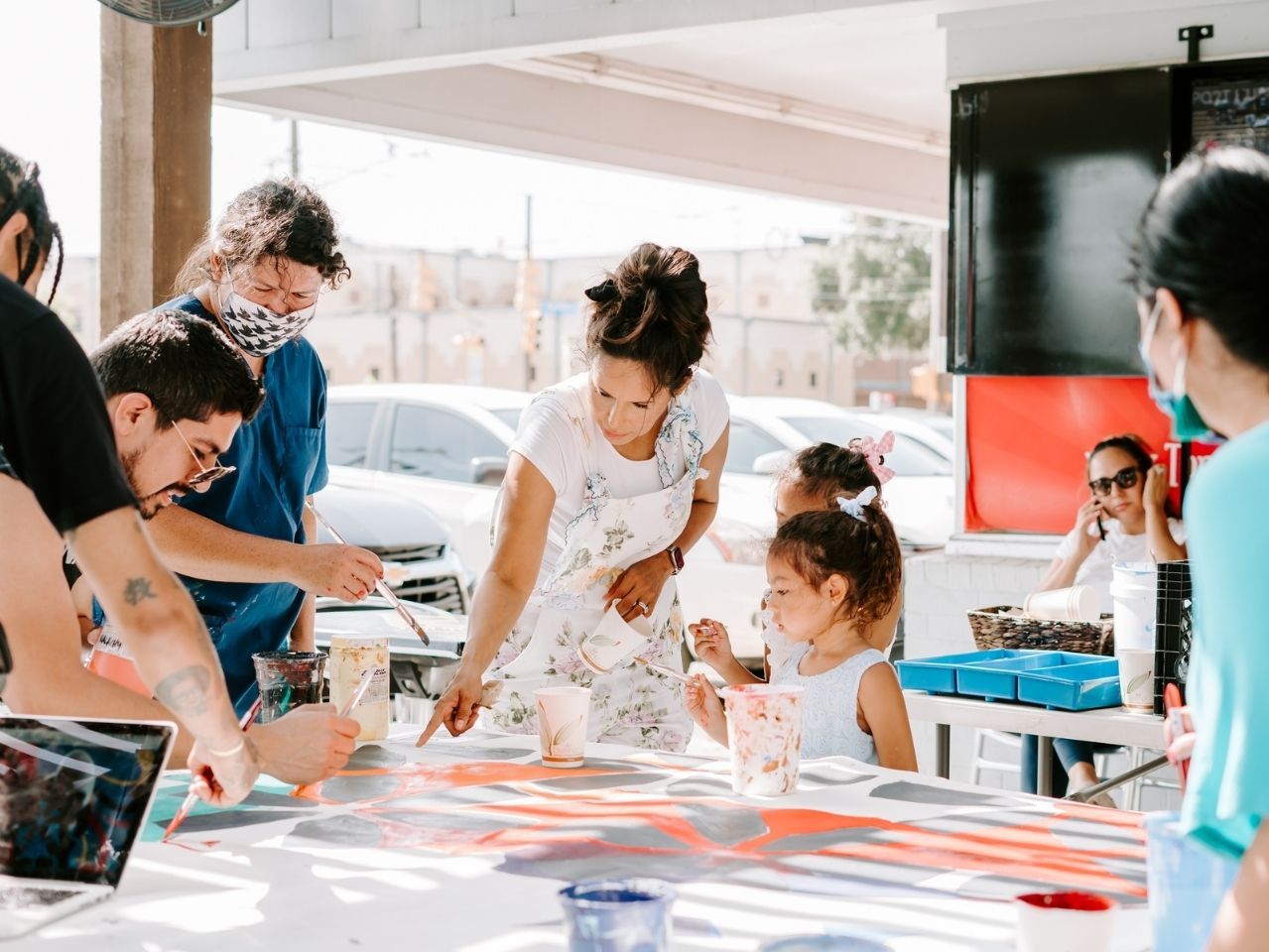 Sandra created her mural using polytab, a type of fabric that can be painted on in the studio and then installed on site. This technology originated with the Philadelphia Mural Arts Program, where Sandra trained to further her artistic and community-based practice. She was assisted by Malachy McKinney, and she also organized a community painting day, inviting volunteers to participate in the mural creation. This is what she said about her mural: "The community wanted to see Black representation on the wall. The mural includes Miles Davis playing the trumpet and Etta James singing. Etta James used to perform all around the East Side. I also included street signs of the important East Side streets Hackberry and Douglass, and the design is inspired by Tony G's interior."
Artist Victor Zarazua, West Side, Wicho's Mexican Deli: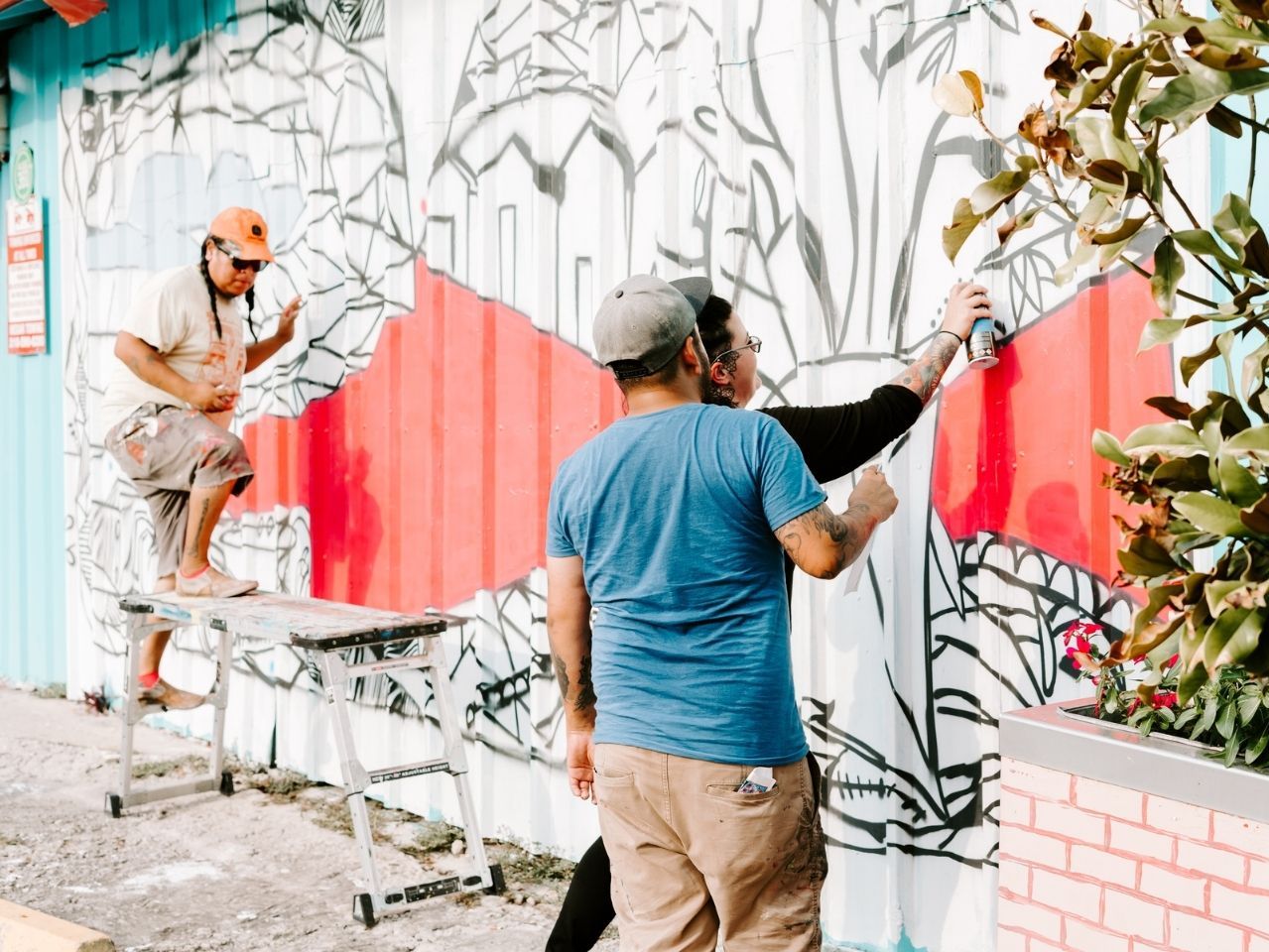 We're saddened to share that Victor had a stroke and will have a long recovery. His muralist friend Cesar Garcia stepped in to finish the mural, using Victor's sketches and vision.
Victor planned his mural to be executed in different types of paint including spray paint.
"This project is important for me. I grew up on San Antonio's West Side, and I wanted the mural to represent the neighborhood. Zarzamora—where Wicho's is located—is one of the biggest roads, and it's a major connector between the North and the South. I walked around the neighborhood and took photos of the landscape and the surrounding area. To some it might not look like the best side of town but to me it's beautiful. I found beauty in the structures of the whole area.
"I developed a style of abstract graphic design combined with harder black lines defining the shapes and objects while still staying conceptual. My goal is not to be photo realistic but to break up little scenes and demonstrate transitioning movement in town. For example, the small pink and purple triangles represent a bridge, the big green triangle on the top right represents the creek, and a piece of a pool table at the center and a table with a drink on the left represent the bar scene in the neighborhood."
Artist Suzy Gonzalez, SAMA, River Pavilion: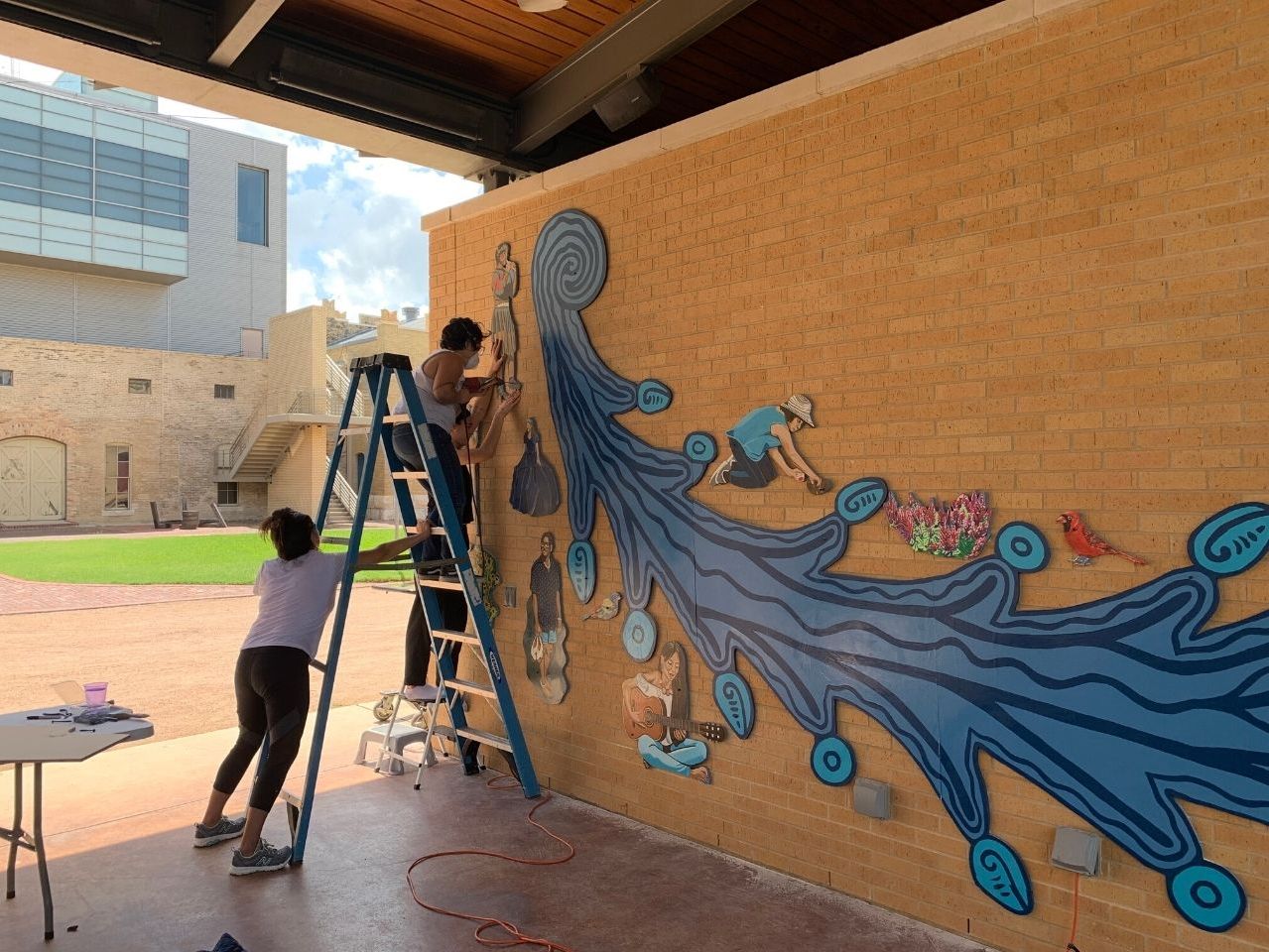 Suzy was assisted by Galileo Gonzalez and Madison Cowles Serna. She painted on wood panels that were drilled into the brick wall and invited the SAMA community to paint on a free Tuesday night.
"For my mural project, I wanted to include as many themes as possible from community feedback: women in the arts, LBGTQ+ community, nature and landscapes of our region, kindness, hope, unity, local musicians, Native Mexican and African art influences, family, growth, peace, happiness, love… The mural includes local people that live in and progress our community and that represent various communities themselves such as musician Azul Barrientos, photographer Jess Gonzales, artist Mesquite Papi, or poet laureate Andrea "Vocab" Sanderson. All of the figures are gathered around the Yanaguana river and are surrounded by native plants and birds. At the center is a Mesoamerican codex image of the duality of the moon and the sun."